Tracking College Credits Earned
Tech Prep students have opportunities to earn college credit through their Tech Prep programs in high school and typically, these credits are posted on a Sinclair transcript at the end of senior year, following graduation. Some students will matriculate to Sinclair and use their earned credits toward a certificate or a degree, while others may elect to attend a different college or university and wish to transfer those credits.
Before students order an official Sinclair transcript, the MVTPC suggests that s/he check her/his unofficial transcript to ensure credits have been posted.
Please follow the steps below to access WebAdvisor and view an unofficial transcript:
Log on to https://my.sinclair.edu using your Sinclair username (typically it is firstname.lastname) and your password. If have have never used/activated your Sinclair account, your password is PassXXXX and XXXX=last four digits of SSN. If you have logged on before, then you would have changed your password. If you cannot remember your password, you must contact the Sinclair HELP desk at 937-512-4357 OR you can reset it online at https://reset.sinclair.edu/. If you call the HELP desk you will need your Sinclair Tartan ID# (ex. 0335381) for the reset. If you do not know your Tartan ID# please call the Tech Prep office at 937-512-5146 between 8AM and 5PM, Monday-Friday.
Once you log on to https://my.sinclair.edu, click WebAdvisor (left hand corner).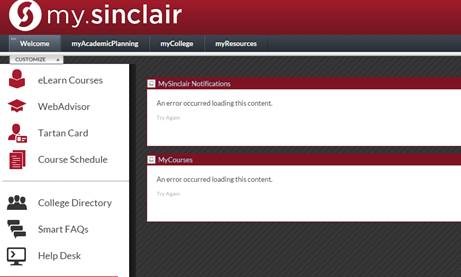 Click on Students (blue block).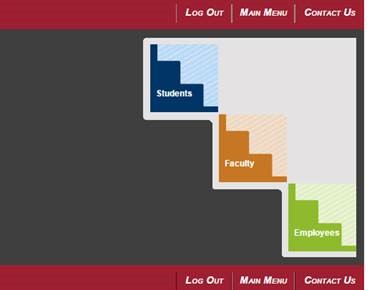 Scroll down and on the right-hand side look for "Unofficial Transcript" under Academic Profile.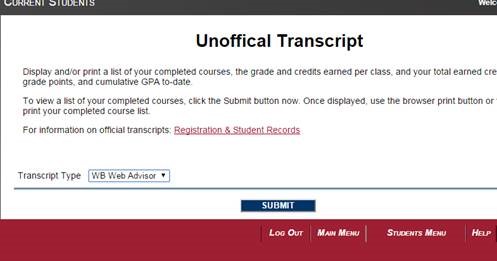 Click the SUBMIT button. Your credits, if posted, should be listed by term.
Once credits are posted, you may order an official Sinclair Community College transcript at this link: http://www.sinclair.edu/services/registration/Records/Transcripts/
If you have any questions about your credits, please contact Tim Bryant at 937-512-2406 or timothy.bryant@sinclair.edu.